The coating:

An exclusive and innovative Nano-metric coating development in a unique Si-Ti hybrid cross-link format, creating an invisible protective shield with great physical and mechanical strength, designed to protect against friction and scratches world class quality without compromising the surface's light and touch transmission properties.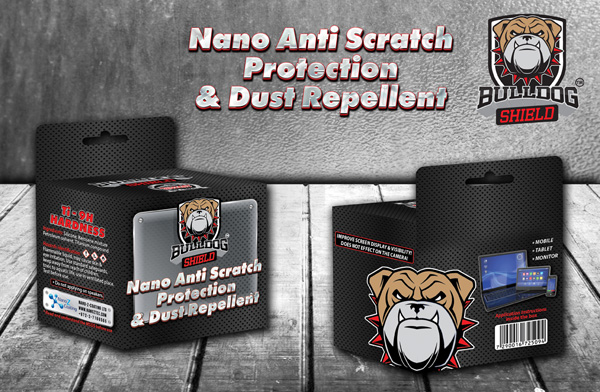 Completely unaffected by all common scratches, this format significantly reduces surface's wear. Providing a powerful protection for most glass and plastic surfaces, this coating enhances and deepens their transparency for years.

This coating providing the surface his unique qualities: Being hydrophobic (water repellent) and oleophobic (oil repellent) : it becomes a strong physical barrier: Its anti-static quality makes it an excellent dust reducer; it has a self-cleaning ability during rain and is generally easy to clean ; it is a better anti-corrosion (including in a sea water environment), graffiti, anti turbidity product to keep the surface transparency for longer time and an excellent ice repellent.

The coating does not impair the quality of the touch and increases the sharpness and visibility of the screen
Applications:
Military and civilian applications;

On cellular mobile phones and screens of computers, tablet computers, televisions etc.

On aviation components in aircrafts and other flight devices;

Coverage for cameras, mall display windows, banisters and glass surfaces in kitchens, homes and swimming pools;

Anti-graffiti – easy removal without any traces or "shadows" left;

For industrial glass and plastic surfacing;

Ice and snow repellent, reduces weight, enhances photographic capability and passage of light.


Product's features:
Dilution: not required – the product is ready to use;
Drying/hardening mechanism: natural, no external means required. However, hardening can be expedited with ER lamps or a hot air system at 60°C for up to 1-hour, in an up to 50-70% humidity environment;
Level of shine: full transparency.

Application:
For deep cleaning, use CW-101 wipes (in the gray pack) and thoroughly dry using microfiber cloth NO-1 and wait 1 minute until evaporation.



Pour 5-6 drops of the nano bulldog shield liquid on the attached sponge and apply in straight and overlapping lines in the same direction, without pressure.

Warning: Do not apply on audio / speaker vents.

Wait for 1-1.5 minutes until first curing and clean the residues until the surface will shining, using a quality microfiber cloth NO-2 , applying light pressure in circular motions until total shine is achieved. Warning: do not wait longer than that, as the coating will become too hard to polishing and brightening;

Apply second coat after 1-2 minute – repeat steps 2-3.
Warning: the second coat must be applied no more than 5 minutes after the completion of the first coat's application. If more time passed, do not apply a second coat. In this case, protection is slightly reduced).

Drying time for touch:1 hour after the second coat's application is complete.
Complete hardening: 48 hours. Final hardening and scratch test: after 72 hours.


About the product – key properties:
Excellent erosion durability:

A cross structure design of the hybrid product is based on Si-Ti foundations at 15-25 micron thickness per coat, providing durability at a high quality which not seen so far in the industry.
The result:
(1) unlike other organic or kerosene based coatings characterized by speedy disintegration under these conditions, this coating is not affected by UVB and UVA sun rays, erosion and atmospheric oxygenation, even with floating particles such as soot and salt;
(2) this coating keeps the surface looking new and shiny for a much longer period compared to any other coatings, which takes only months to fade and loose transparency.


Packaging:

DIY packaging: 4 ml. (provides protection for 1-2 cell phones)
Professional packaging for laboratories: 6 * 15ml units (including 24 application sponges and 12 microfiber cloths).
Industrial packaging: 0.5, 1 and 5 liter packaging.


Warnings and remarks:

All data are in accordance with the company's knowledge and experience in Israel and abroad, however, the customer is not relieved of their obligation and responsibility to test the product before application on a small hidden spot. The company's liability is limited to manufacturing failure and to a refund or replacement at the company's gates only. The company is not liable to constructive damages due to reasons out of its control. The company provides inspection and matching services for any surface before coating.