A concentrated industrial water-based, environmentally friendly solvent for the removal of thick soot and hard oily dirt.
For what is it intended ?
For cleaning the rims of car wheels made of aluminum or steel, chimneys, furnaces, fireplaces, environment of engines and generators and all those places suffering from hard soot.
What is the action of Z-300/P ?
The Z-300/P technology penetrates through soot, breaks down and separates it from the surface easily and efficiently by means of a unique action of flooding the soot (and not dissolving it) and there by facilitates easy washing and removal with a damp cloth or by rinsing.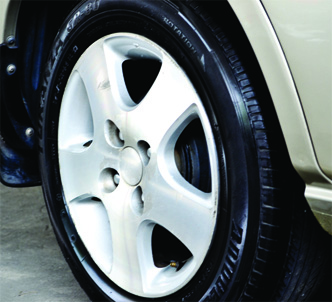 Spray / distribute / spread the material well on the surface using a sprayer / wiper / sponge / cloth / soft brush.




Wait for at least 10 –20 minutes for disintegration and separation. (Do not leave it to dry). Under certain conditions, allow the material a longer disintegration time, depending on the type of surface, age, mechanical thickness and so on.




Rub in a circular motion. For particularly difficult cases, use a stiff brush and / or pressure washer at a moderate pressure of up to 100 bar, which will allow large-scale disintegration, removal and cleaning. Depending on the purpose, the action can be repeated a second time.




The product can be added to cleaning systems such as pressure washers. (Consult with the company beforehand to determine the final suitability).




Rinse the surface well and allow it to dry completely.



Packaging: 750 ml: 4 liters: 18 liters.

Transportation and Storage: In its original packaging and in a shaded and closed place it will keep for one year. Material that freezes is not usable anymore. Product is not flammable and is not toxic since it is water based.

Remarks: All the data is according to the knowledge and experience of the company both in this country and abroad, however this does not exempt the customer from his obligation to test the material prior to actual application on a small hidden area. The company's responsibility is limited to production defects alone and to refunding the cost of the product at the company's premises, or replacement of the product at the sole discretion of the company. Nano Coatings supplies testing and preliminary suitability services for any surface intended for coating.